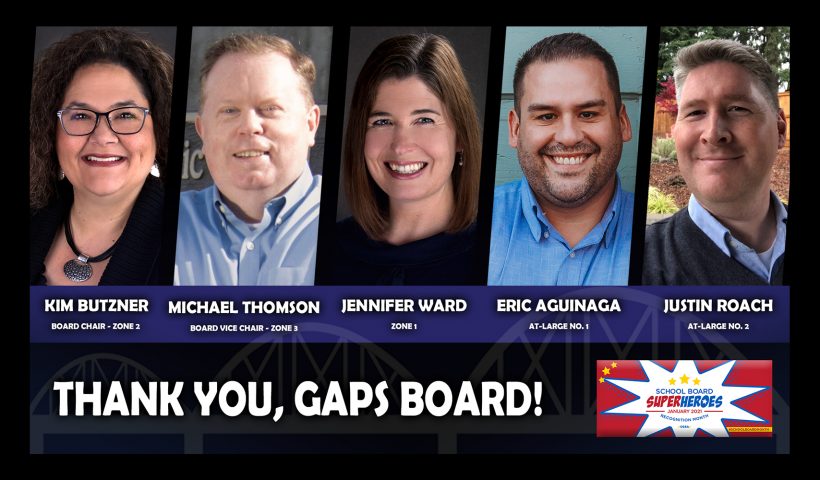 GAPS 2021 School Board Recognition Video
Greater Albany Public Schools celebrated School Board Recognition Month in January, a time to appreciate and recognize the selfless work that our school board members do in service to our community and most importantly our children. 
School board members represent their fellow citizens' views and priorities in the difficult task of maintaining and running our community's public schools, and during the COVID-19 pandemic, their work has never been more important. In this unprecedented time our Board members have continued to keep the wellbeing of our students at the forefront of all of their decisions while working with district leadership to maximize educational opportunities and support for families.
"Our school board members spend countless hours of unpaid time working to provide the best possible education for our students and have never worked harder than during the COVID-19 pandemic," Superintendent Melissa Goff said. "They also serve as the board of directors for one of our community's largest employers and the largest school district in Linn, Benton, and Lincoln counties. Celebrating School Board Recognition Month is one way to say thanks for all they do."
The primary focus of the school board is to support student achievement. To achieve that goal, the board focuses on many needs, including:
Creating a vision for what parents and citizens want their school district to become and how to make student achievement the top priority

Overseeing bond projects, from getting bonds passed to ensuring proper execution of taxpayer dollars.

Setting standards for what students must learn and be able to do

Assessing whether schools achieve their goals, and whether students are learning

Accounting for the outcomes of decisions and by tracking progress and reporting results

Aligning the use of the district's human and financial resources

Creating a safe and orderly climate where students can learn and teachers can teach

Collaborating to solve common problems and to support common successes

Focusing on continuous improvement by questioning, examining, revising, refining and revisiting issues related to student achievement.
Appreciation videos created by GAPS teachers, staff and students were shared with the Board members in January. You can view the complete collection of appreciation videos above and linked here. The GAPS Board members also received certificates of appreciation from the Oregon School Boards Association (OSBA) presented by district administration. 
For the 2020-21 academic year, Kim Butzner is the Board Chair while Michael Thomson is the Vice Chair. Eric Aguinaga, Jennifer Ward, and Justin Roach are also serving on the board, with Roach recently appointed to fill the vacated position previously held by Pat Eastman. 
The GAPS community is also served by a pair of student Board members from South Albany and West Albany High Schools. This year, LJ Carmichael has represented WAHS and Esperanza Herrera-Moore has represented SAHS, with each providing reports during each Board meeting and bringing the needs of their fellow students to district administration and the community at large. 
Do you want to serve on the School Board?
Mutiple School Board positions are up for election this year, with terms expiring on June 30, 2021.
Many of the qualities that make board members great are acquired over time, through training and experience, so don't discredit your potential worth as a board member, even though you may never have served in such a capacity.
As you consider running for the school board, think about whether these characteristics of effective board members describe you:
You hold a conviction that public education is important.

You are committed to public involvement.

You have the ability to make decisions.

You believe in the democratic process.

You're willing to devote time and energy to your new position.

You can accept the will of the majority.

You have the courage to stand up for your convictions.

You have respect for district employees.

You communicate well with others.
Boards typically meet one or two evenings a month and may also have occasional work sessions. Before the monthly meetings, you'll need to study the materials provided (board packets) so you can make informed decisions. A substantial time commitment is required of board members beyond meeting and meeting-preparation time. There are committee meetings, work sessions and appearances on behalf of the district. 
Board members are elected to four-year terms. You must be a registered voter and you must have lived in the district for one year immediately preceding the election. School district employees elected to serve on the board must give up employment with the district to sit on the board.
The Oregon School Boards Association (OSBA) created the Get on Board website in 2017 to inform prospective board members. Among its resources are an FAQ, resources, and webinars that provide a wealth of information. The OSBA ran two webinars in January, an Information Session and a Board and Student Panel Discussion/Q&A, that can be viewed here. For a quick summary of key dates and information, please see the flyer here. 
Election Information

The special district election will take place on May 18, 2021. Candidates can file February 6, 2021 through 5:00 pm on March 18, 2021.
Candidates must file with the Linn County elections office. Though GAPS lies in both Linn and Benton counties, Linn county is the sole organizer for the district election. Prospective candidates that reside in either county will file in Linn county. Candidates will appear on election ballots in both counties where applicable.
Prospective candidates may access the SEL 190 Candidate Filing form here. In addition, you may view the State of Oregon's County, City and District Candidate Manual for more information. 
If you have any questions please contact the Linn County Clerk's Office at 541-967-3831 or email Supervisor of Elections Derrick Sterling at dsterling@co.linn.or.us.
---
Spanish Translation
Las Escuelas Públicas de Greater Albany, celebraron el Mes de Reconocimiento de la Mesa Directiva en enero, un momento para apreciar y reconocer el trabajo desinteresado que los miembros de la Mesa Directiva, hacen al servicio de nuestra comunidad y, lo más importante, para nuestros niños.
Los miembros de la Mesa Directiva, representan los puntos de vista y las prioridades de sus conciudadanos en la difícil tarea de mantener y administrar las escuelas públicas de nuestra comunidad, y durante la pandemia de COVID-19, su trabajo nunca ha sido más importante. En este tiempo sin precedentes, los miembros de nuestra Mesa Directiva han continuado manteniendo el bienestar de nuestros estudiantes al frente de todas sus decisiones, mientras trabajan con los líderes del distrito para maximizar las oportunidades educativas y el apoyo a las familias.
"Los miembros de nuestra Mesa Directiva pasan incontables horas de tiempo no remunerado, trabajando para brindar la mejor educación posible a nuestros estudiantes y nunca han trabajado más duro que durante la pandemia de COVID-19", dijo la Superintendente Melissa Goff. "También sirven como la Mesa Directiva de uno de los empleadores más grandes de nuestra comunidad y del distrito escolar más grande en los condados de Linn, Benton y Lincoln. Celebrar el Mes de Reconocimiento de la Mesa Directiva es una forma de agradecer todo lo que hacen."
El enfoque principal de la Mesa Directiva es apoyar el éxito de los estudiantes. Para lograr ese objetivo, la Mesa Directiva se enfoca en muchas necesidades, incluyendo:
Crear una visión de lo que los padres y los ciudadanos quieren, que se convierta su distrito escolar y cómo hacer que el éxito de los estudiantes sea la máxima prioridad. 
Supervisar proyectos del bono escolar, desde aprobar los bonos, hasta garantizar la ejecución adecuada de los dólares de los contribuyentes. 
Establecer estándares de lo que los estudiantes deben aprender y poder hacer. 
Evaluar si las escuelas logran sus objetivos y si los estudiantes están aprendiendo. 
Contabilizar los resultados de las decisiones y rastrear el progreso e informar los resultados.
Alinear el uso de los recursos humanos y financieros del distrito.
Crear un clima seguro y ordenado donde los estudiantes puedan aprender y los maestros puedan enseñar. 
Colaborar para resolver problemas comunes y apoyar éxitos comunes.
Enfocarse en la mejora continua, haciendo preguntas, examinando, revisando, refinando y revisando temas relacionados con el desempeño de los estudiantes.
Los videos de agradecimiento creados por los maestros, el personal y los estudiantes de GAPS se compartieron con los miembros de la Mesa Directiva en enero. Puede ver la colección completa de videos de agradecimiento aquí. Los miembros de la Mesa Directiva de GAPS también recibieron certificados de agradecimiento de la "Oregon School Boards Association" (Asociación de Mesa Directivas Escolares de Oregon, OSBA por sus siglas en inglés) presentados por la administración del distrito.
Para el año académico 2020-21, Kim Butzner es la Presidenta de la Mesa Directiva, mientras que Michael Thomson es el Vicepresidente. El Sr. Eric Aguinaga, Sra. Jennifer Ward y Sr. Justin Roach también forman parte de la Mesa Directiva, y el Sr. Roach fue nombrado recientemente para ocupar el puesto vacante que ocupaba anteriormente el Sr. Pat Eastman.
La comunidad de GAPS también es atendida por un par de estudiantes miembros de la Mesa Directiva de las escuelas preparatorias South Albany (SAHS) y West Albany (WAHS). Este año, LJ Carmichael ha representado a WAHS y Esperanza Herrera-Moore ha representado a SAHS, con cada uno proporcionando informes durante cada reunión de la Mesa Directiva y trayendo las necesidades de sus compañeros de escuela a la administración del distrito y a la comunidad en general.
¿Quiere formar parte de la Mesa Directiva?
Múltiples puestos de la Mesa Directiva están disponibles para elección este año, con plazos que vencen el 30 de junio de 2021.
Muchas de las cualidades que hacen grandes miembros de la Mesa Directiva, se adquieren con el tiempo, a través de la capacitación y la experiencia, por lo que usted no debe desacreditar su valor potencial como miembro de la Mesa Directiva, aunque nunca haya servido en tal capacidad.
Al considerar postularse para la Mesa Directiva, piense en si estas características de miembros efectivos de la Mesa Directiva lo describen:
Tiene la convicción de que la educación pública es importante.
Está comprometido/a con la participación pública.
Tiene la capacidad de tomar decisiones.
Cree en el proceso democrático.
Está dispuesto a dedicar tiempo y energía a su nuevo puesto.
Puede aceptar la voluntad de la mayoría.
Tiene el valor de defender sus convicciones.
Tiene respeto por los empleados del distrito.
Se comunica bien con otros.
Las mesas directivas generalmente se reúnen una o dos noches al mes y también pueden tener sesiones de trabajo ocasionales. Antes de las reuniones mensuales, deberá estudiar los materiales proporcionados (paquetes de la Mesa Directiva), para poder tomar decisiones informadas. Se requiere un compromiso de tiempo sustancial de los miembros de la Mesa Directiva más allá del tiempo de la reunión y preparación para la reunión. Hay reuniones del comité, sesiones de trabajo y apariciones en nombre del distrito.
Los miembros de la Mesa Directiva son elegidos por períodos de cuatro años. Debe ser un votante registrado y debe haber vivido en el distrito durante un año inmediatamente anterior a la elección. Los empleados del distrito escolar elegidos para servir en la Mesa Directiva deben dejar de trabajar con el distrito para formar parte de la Mesa Directiva.
La "Oregon School Boards Association" (Asociación de Mesa Directivas Escolares de Oregon, OSBA por sus siglas en inglés) creó el sitio web "Get on Board" (Hágase miembro) en 2017 para informar a los posibles miembros de la Mesa Directiva. Entre sus recursos se encuentran respuestas a preguntas frecuentes, recursos y seminarios web que brindan una gran cantidad de información. La OSBA llevó a cabo dos seminarios web en enero, una sesión informativa y un panel de discusión/preguntas y respuestas de Mesa Directiva y estudiantes, que se pueden ver aquí. Para obtener un resumen rápido de las fechas claves y la información, por favor consulte el volante en inglés aquí y en español aquí.
Información electoral
La elección especial del distrito se llevará a cabo el 18 de mayo del 2021. Los candidatos pueden presentar su solicitud desde el 6 de febrero del 2021, hasta las 5:00pm del 18 de marzo del 2021.
Los candidatos deben presentar su solicitud en la oficina de elecciones del condado de Linn. Aunque GAPS se encuentra en los condados de Linn y Benton, el condado de Linn es el único organizador de las elecciones de distrito. Los posibles candidatos que residan en cualquiera de los condados se presentarán en el condado de Linn. Los candidatos aparecerán en las boletas electorales en ambos condados cuando corresponda.
Los posibles candidatos pueden acceder al formulario de presentación de candidatura SEL 190 aquí. Además, puede consultar el documento County, City and District Candidate Manual (Manual del candidato del condado, la ciudad y el distrito) del Estado de Oregon para obtener más información.
Si tiene alguna pregunta, comuníquese con la Oficina del Secretario del Condado de Linn al 541-967-3831 o envíe un correo electrónico al Supervisor de Elecciones. Derrick Sterling a dsterling@co.linn.or.us.