The GAPS nutrition services and transportation teams are going above and beyond to provide free meals over winter break for the first time! 
All four bus routes will be operational at their normal times and destinations and eight meal sites will be open from 12-1 pm on Mon-Wed in each of the two winter break weeks (Dec. 21-23 and Dec. 28-30). Families will be able to pick up two meals on Wednesday. 
Please see the special Winter Break meal sites in the graphic below and visit bit.ly/GAPSMeals to see all bus schedules and menus.

When picking up meals at sites or bus stops, please make sure that you and your children wear face coverings. To ensure the safety of our serving staff and drivers as well as other families, please adhere to state guidelines that require face coverings to be worn in all public spaces. 
For more holiday food availability and other resources in our community, please see the following Holiday Resource Guide in English or Spanish or visit pollywogfamily.org.
---
Spanish Translation
¡Los equipos de transporte y servicios de nutrición de GAPS van más allá para proporcionar comidas gratis durante las vacaciones de invierno por primera vez!
Las cuatro rutas de autobús estarán operativas en sus horarios y destinos normales y ocho sitios de comida estarán abiertos de 12 a 1 pm de lunes a miércoles en cada una de las dos semanas de vacaciones de invierno (21-23 de diciembre y 28-30 de diciembre) . Las familias podrán recoger dos comidas el miércoles.
Por favor, vea los sitios de comidas especiales durante las vacaciones de invierno, en el gráfico a continuación y visite bit.ly/GAPSMeals para ver todos los horarios de los autobuses y menús.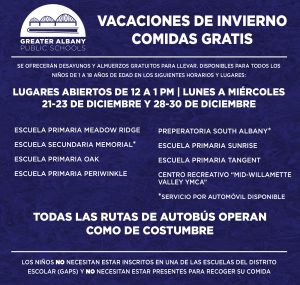 Cuando recoja las comidas en los sitios o paradas de autobús, asegúrese de que usted y sus hijos usen cubiertas para la cara. Para garantizar la seguridad de nuestro personal de servicio y conductores, así como de otras familias, siga las pautas estatales que exigen que se usen cubiertas para la cara en todos los espacios públicos.
Para obtener más información sobre la disponibilidad de alimentos navideños y otros recursos en nuestra comunidad, consulte la siguiente Guía de recursos navideños en inglés o español o visite pollywogfamily.org.