GAPS Families,
On March 29th, we will begin to transition our youngest students into the hybrid model.  Middle and high school students will begin in hybrid learning at the beginning of the fourth quarter while the third quarter will be shortened by one week. Please see below for specific timelines for all grade levels. 
Due to space and cohort limitation requirements from OHA and ODE, switching from Comprehensive Distance Learning to Hybrid will be dependent on space available at your school. You may be asked to wait to switch learning models based on availability of space. Space in our schools is limited by the Ready Schools, Safe Learners safety protocols, including the requirement that classrooms/seating arrangements must follow ODE requirements of 35 square feet per person in a room.
If you are planning to change your student(s) placement from what you selected in the Parent Survey earlier in the year, please contact your school's office staff by March 1, 2021. 
GAPS K-12 Hybrid Reopening Timelines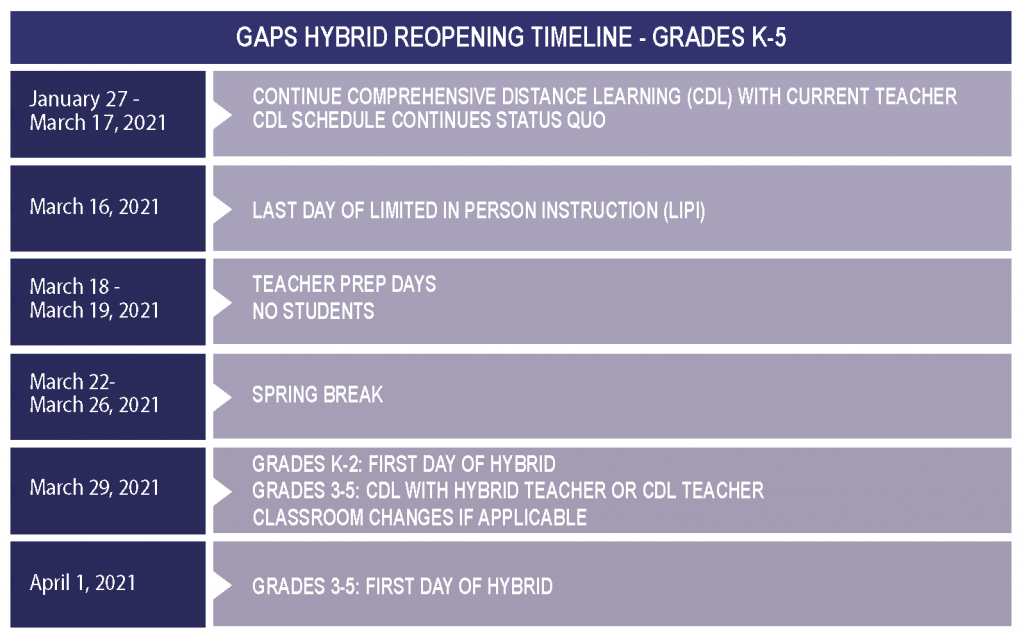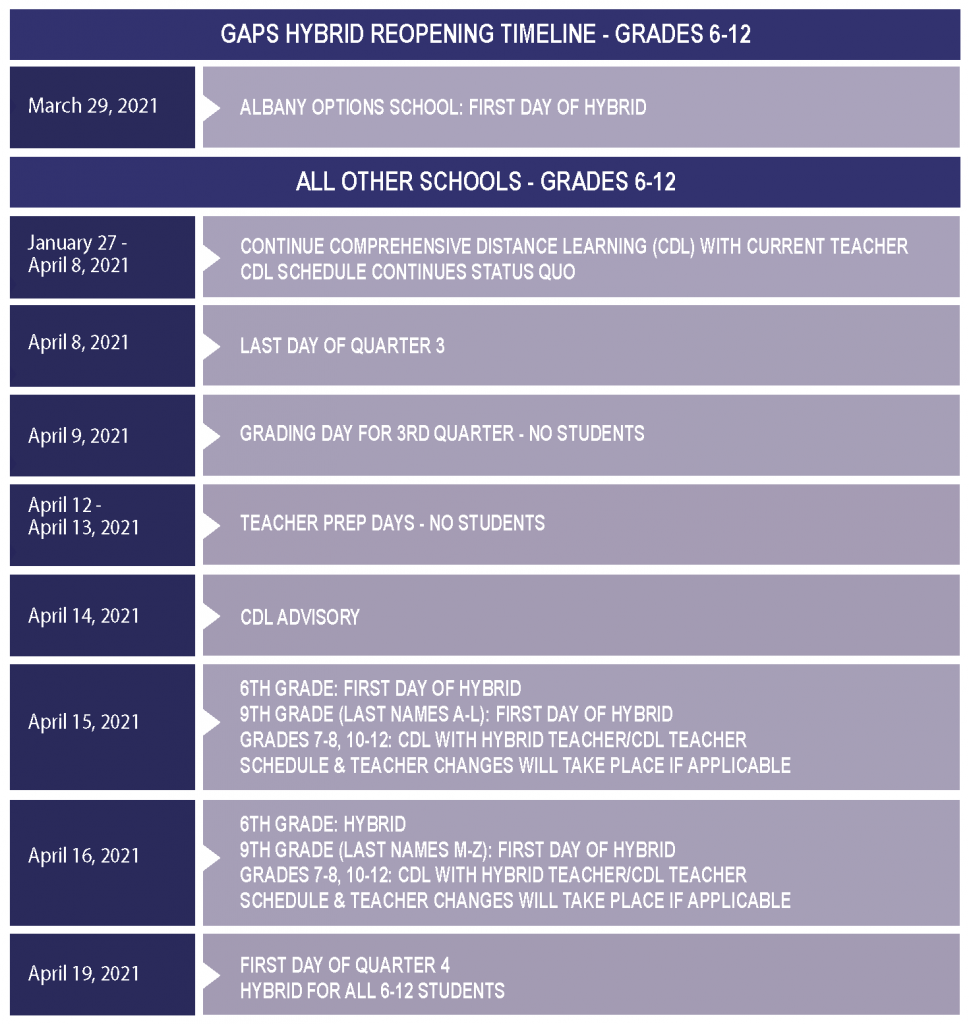 CDL = Comprehensive Distance Learning
LIPI = Limited In Person Instruction
HOW SCHOOL WILL LOOK:
Available Models and Comparison:
FACTORS IN OUR DECISIONS:
Requirements that we still must adhere to when we open outside of the metrics.

At this point we have still never met the metrics (previously mandated, now advisory) for both Linn and Benton counties in the same two week period

. When you open outside of the metrics additional requirements fall into place. These requirements include

on-site testing for staff and students, which is a substantial challenge for a system of our size and one that is significantly less of a factor for smaller districts in our region.  


Availability of testing. Because it is all hands on deck for vaccinations, the availability of testing has drastically been reduced. We have had problems even getting tests for our students. We are seeing reduced numbers in Linn County because we aren't testing people like we were before.

Insurance coverage 

Since the newest release of information in the ODE Ready Schools Safe Learners, we know that we are covered through PACE and through the government PREP coverage.  

Our plan would fit in the acceptable risk category after staff vaccinations are complete.
ADDITIONAL CONSIDERATIONS:
Safety for our students and staff.  

Science and what the scientists understand about COVID-19 and its variants have changed over time.  

Diverse group of stakeholders, considering their voices and finding how to represent their wishes and address their concerns in our final decision.  

Equity in this decision, including impacts of decisions on multi-generational families and scientific data indicating groups who are more vulnerable to the virus, including certain racial groups. We have considered the needs of our students in poverty and whether CDL is meeting their needs.  

Partners at Boys and Girls Club and the YMCA and the need for partnership to continue so students may have the supports provided by these service groups in our community.
LIMITED IN PERSON EXPANSION:
This will look different at every site, yet will have in common the focus on serving students with academic or social emotional needs prior to the start of hybrid learning.
Opportunities COULD, but may not necessarily include:
Social and emotional support groups facilitated by a counselor, behavior specialist, or mental health professional

Academic tutorial times for students needing additional in-person supports for their work

Clubs and sports teams focusing on teamwork activities together

Lego parties where students bring their own or are provided with a lego set where they are building next to their friends.
ATHLETICS AND ACTIVITIES:
These are still overseen by OSAA and the school district has no influence or supervision over when and how these teams may meet and compete. Here is the latest OSAA update, posted on February 8: OSAA Update. 
MORE:
Information presented to School Board on Feb. 8 (starts at 3 minute mark)
Presentation at Family Forums on Jan. 21: English | Spanish
---
Spanish Translation
Familias de GAPS,
El 29 de marzo, comenzaremos a hacer la transición de nuestros estudiantes más pequeños, al modelo híbrido. Los estudiantes de secundaria y preparatoria comenzarán en el aprendizaje híbrido al comienzo del cuarto trimestre, mientras que el tercer trimestre se acortará en una semana. Consulte a continuación los plazos específicos para todos los niveles de grado.
Debido a los requisitos de limitación de espacio y agrupaciones de OHA y ODE, el cambio de aprendizaje integral a distancia a híbrido dependerá del espacio disponible en su escuela. Es posible que se le solicite que espere para cambiar los modelos de aprendizaje según la disponibilidad de espacio. El espacio en nuestras escuelas está limitado por los protocolos de seguridad del programa "Ready Schools, Safe Learners" (Escuelas Preparadas, Estudiantes Seguros), incluido el requisito de que los salones de clase / disposición de los asientos, deben seguir los requisitos de ODE de 35 pies cuadrados por persona en un salón.
Si planea cambiar la ubicación de su estudiante de lo que seleccionó en la Encuesta para padres a principios de año, comuníquese con el personal de la oficina de su escuela antes del 1º de marzo de 2021.
Cronograma de apertura del aprendizaje hibrido de Kínder a 12° grado de GAPS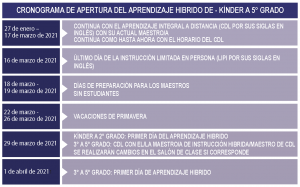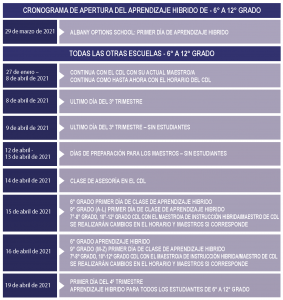 CDL = Aprendizaje Integral a Distancia
LIPI = Instrucción Limitada en Persona
COMO SE VERA LA ESCUELA
Modelos disponibles y comparación:
FACTORES EN NUESTRAS DECISIONES:
Requisitos que aún debemos cumplir cuando abrimos fuera de las métricas. En este punto, hasta el momento nunca hemos cumplido con las métricas (anteriormente exigidas, ahora recomendadas) para los condados de Linn y Benton en el mismo período de dos semanas. Cuando se abre fuera de las métricas, se implementan requisitos adicionales. Estos requisitos incluyen pruebas Covid en el lugar para el personal y los estudiantes, lo cual es un desafío sustancial para un sistema de nuestro tamaño y es un factor significativamente menor para los distritos más pequeños de nuestra región.
Disponibilidad de pruebas. Debido a que todo está disponible para las vacunas, la disponibilidad de pruebas se ha reducido drásticamente. Hemos tenido problemas incluso para obtener pruebas Covid para nuestros estudiantes. Estamos viendo números reducidos en el condado de Linn porque no estamos evaluando a las personas como antes.
Cobertura de seguro medico

Desde la última publicación de información en el programa "Ready Schools Safe Learners" por ODE, sabemos que estamos cubiertos a través de PACE y de la cobertura de PREP del gobierno.
Nuestro plan entraría en la categoría de riesgo aceptable una vez que se hayan completado las vacunas del personal.
CONSIDERACIONES ADICIONALES:
Seguridad para nuestros estudiantes y personal.
La ciencia y lo que los científicos entienden sobre COVID-19 y sus variantes han cambiado con el tiempo.
Grupos diversos de partes interesadas, considerando sus voces y encontrando cómo representar sus deseos y abordar sus inquietudes en nuestra decisión final.
Equidad en esta decisión, incluidos los impactos de las decisiones en las familias con múltiples generaciones y los datos científicos que indican los grupos que son más vulnerables al virus, incluidos ciertos grupos raciales. Hemos considerado las necesidades de nuestros estudiantes en situación de pobreza y si el aprendizaje integral a distancia (CDL) satisface sus necesidades.
Asociación con "Boys and Girls Club" y YMCA, y la necesidad de continuar con la asociación, para que los estudiantes puedan tener el apoyo proporcionado por estos grupos de servicio en nuestra comunidad.
EXPANSIÓN DE LA INSTRUCCIÓN LIMITADA EN PERSONA
Esto se verá diferente en cada sitio, pero tendrá en común el enfoque de atender a los estudiantes con necesidades académicas o socioemocionales.
Las oportunidades PODRÍAN, pero no necesariamente incluir:
Grupos de apoyo social y emocional facilitados por un consejero, especialista en conducta o profesional de salud mental.
Horarios de tutoría académica para los estudiantes que necesitan apoyo adicional en persona para su trabajo.
Clubes y equipos deportivos que se centran en actividades de trabajo en equipo juntos.
Fiestas de Lego donde los estudiantes traen los suyos o se les proporciona un juego de Lego, para que lo construyan cerca a sus amigos.
DEPORTES Y ACTIVIDADES
Estos todavía son supervisados por OSAA y el distrito escolar no tiene influencia ni supervisión sobre cuándo y cómo estos equipos pueden reunirse y competir. Aquí está la última actualización de OSAA, publicada el 8 de febrero: Actualización OSAA.
MAS:
Presentación a la Mesa Directiva (8 de febrero del 2021)
Presentación a los Foros Familiares (21 de enero del 2021): Inglés | Español